...however, the ingredient list for such convenience is frightening!
Enter a homemade, real food version:
Ground beef
Salt and pepper
Onion
Garlic
Tomato sauce
Mustard
Pasta
Cheddar cheese
This ingredient list was simple & I could tell would make a "pound stretcher", one pot meal evoking fall comfort so I gave it a try today:)
Ready in under 30 minutes, this makes an excellent weeknight, family friendly meal, sure to please & I made mine GF!
Homemade Cheeseburger Helper
1 lb. ground beef
½ tsp. salt (I used more salt)
1 tsp. black pepper
1 clove minced garlic (or ¼ tsp. garlic powder)
½ onion, chopped fine (or 2-3 tsp. onion flakes)
1 ¼ c. tomato sauce
1+ tablespoon yellow mustard
1 ¾ cups water (I added a tad more water)
2 ½ cups short pasta, any shape (I used GF penne)
2 cups shredded sharp cheddar cheese
Chopped fresh parsley (optional)
Instructions:
Brown the beef in a large skillet with the salt, pepper, garlic, and onion.
Drain the fat and add the tomato sauce and mustard, stirring gently.
Add the pasta and water, and bring to a boil.
Reduce heat to low, cover and simmer for 12-15 minutes until the pasta is cooked, stirring occasionally.
Turn off the heat, stir in the cheese, sprinkle with chopped parsley and serve!
I coupled this entree with sauteed summer squash & it was perfect:)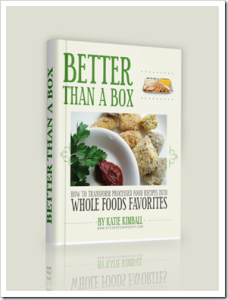 This recipe is included in the Better Than A Box cookbook that I'm hoping to acquire:)
Hope you enjoy,
Tiffany