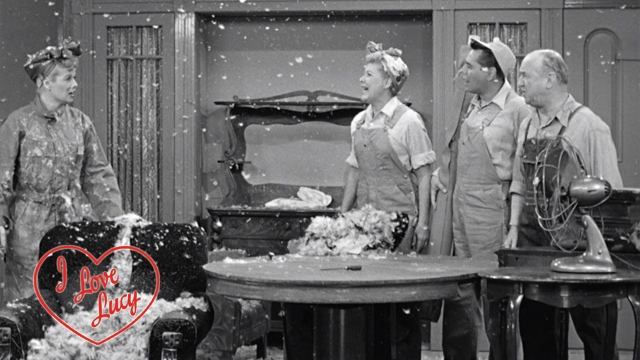 In "Redecorating the Mertz's Apartment", Fred flatly refused to give up his worn but "comfortable" furniture, thus Lucy hatches a plan to reupholster Fred's chair, "stuffed with feathers"...it doesn't go well, as seen above:)
So, in the spirit of "Tight Wad" Mertz, we opted to do a DIY makeover on the ceiling fans in our new home vs buying all new ones...
Eeek! The first step was to frost those tacky glass shades...
...so I picked up a can of Krylon Frosted Glass spray paint and Granddaddy generously held his breath while spraying away...
...and they came out beautifully! I was amazed:)
Next, the fan blades were kept in the order they were removed from the fan so we wouldn't have balance issues when reassembling...we also switched them over to the dark wood finish from the dated oak.
Next we took out this bad boy to tackle the overwhelming brass...

...and again, Granddaddy sprayed away...
...transforming the dated brass hardware...
...to a hammered silver- much better:)
And once reassembled, our dated brass ceiling fan looked modern...
...and gave off a lovely cozy, glow that evening:) "Ricky" was amazed at this transformation and although it took a bit of ladder balancing and looking for miniature washers on the carpet...it was well worth it, thanks to Granddaddy!
Cost:
Ceiling fan- free
Spray Paint- <$15
TOTAL- $8 approx (we have enough spray paint to do another fan!)
And stay tuned to see how this bit of wood transformed our living room:)
Thanks for stopping by,
Tiffany