I've been wanting to refashion a plain black cardi in my wardrobe and so began looking for inspiration...after spending several hours scouring Pinterest and Google searches and gathering enough ideas for 15 cardigans, I finally decided on this
one from Anthropologie
in hopes that I could retain some versatility.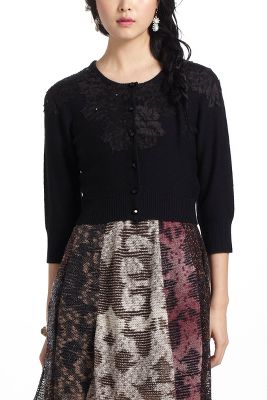 First I needed to alter the cardi as it had gotten a bit baggy (yeah!) and I needed to shorten the sleeves to a 3/4 length- I opted to not shorten the body of the cardi since I don't have an Anthro figure and didn't feel it would be flattering:)
I followed this
great tutorial
for the altering and LOVED it- so easy and satisfying! Wish I hadn't gotten rid of some cardis due to poor fit...
I bought some black lace off the bolt at Hobby Lobby with a coupon and some black beads for the sparkle action- I spent far too long looking for the perfect beads, much to Livy & Jonah's chagrin...(sigh).
Then it was time to figure out how to attach my lace...after much research and advice sought out from professionals (thanks, Sylvia!) I smeared some
Stampin' Up! Anywhere glue stick
to help tack down the lace and then hand stitched around the perimeter...
Lesson learned: would have been much easier to cut one piece of lace for each side of the cardi in the desired shape vs spending way too long piecing little 'bits' and then having to stitch around those dozen or so pieces! Just saying...cause there will be a next time:)
So, I got the lace stitched on and beaded and realized my pattern had digressed from the original...so I added more on the shoulders:)
Finally, the buttons needing tackling...
I picked up some cheesy black rhinestones to adhere to the existing buttons, partly to save time (didn't really want to hand sew 8 buttons) and because I couldn't find the perfect buttons!
A dab of fabric glue and on the rhinestones went- they actually blend really well since one is hopefully focusing on the 'forest' and not the 'trees':)
Pardon the glue smears- hadn't washed yet!
Sorry for the poor lighting- I finally gave up. The pic really doesn't do this little beauty justice:( And as you can see, I opted to add more lace & sparkles than the inspiration piece, and more of a 'bib' shape:)
So in closing, I was able to make a lovely cardi for approx $10, hopefully reminiscent of an Anthro creation priced at $268:)
Thanks for stopping by,
Tiffany